Bosal is a leading worldwide manufacturer of high-performance exhaust systems, catalytic converters, and related components.
Current Tech was first contacted by Bosal's plant in Livonia, Georgia about Addison and Eagle CNC tube benders with outdated and unsupported control systems in place. Spare parts were hard to come by and questionable when available according to Bosal.
The first machine we upgraded with BendPro was an Eagle EPT-75 CNC tube bender. The bender is a bit unique in that it has a Mandrel Carriage assembly that is servo controlled. In addition, the bender has a loader that automatically delivers tubes from the side. Before each tube can be automatically loaded, the Mandrel Carriage assembly must rapidly move back out of the way. Current Tech wrote the required software and tested it while on-site during the BendPro control installation.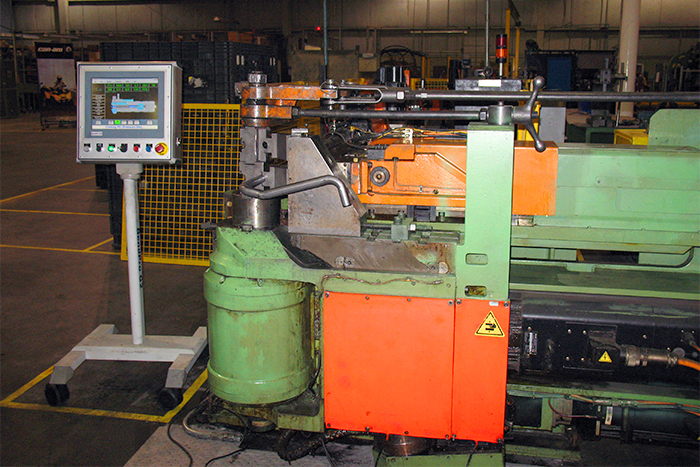 BendPro on an Eagle EPT-75 CNC bender.
Another unique feature on some of the benders at Bosal is the Carriage Boost. This is a stand-alone device design to directly boost the tube during the bending moment to reduce wall thinning and increase ovality. In addition, it can provide a "boost to tangent" function that can reduce material costs by allowing short length of tail stock. The BendPro software is designed to support several different styles of Carriage Boost devices.
Russ Addison, Senior Manufacturing Engineer at Bosal, had the following to say about Current Tech and our BendPro system:
"With BendPro, programming is easier, which reduces set-up times. Troubleshooting is quicker due to advanced diagnostics screens that are available in the software, and customer support is excellent.
Current Tech is one of my best suppliers. Any questions are answered in a timely manner and delivery time is extremely fast.
BendPro has been installed on at least 6 benders at this facility. Installation usually takes only a few days and machines that were previously at the end of life are revived. We have been using Current Tech for several years, and I would have to say that they give us better support than any other equipment supplier we currently have."