Overview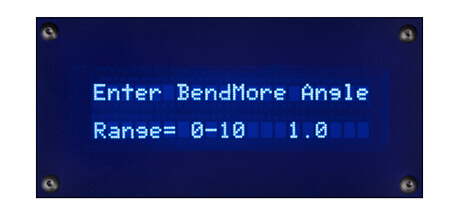 Control-A-Bend - Bend More Feature
This unique feature allows the operator to correct an under bent tube and avoid scrapping it. The operator is able to enter an additional bend angle, re-clamp, and re-bend a tube. Prototyping as well as production bending shops benefit from this functionality.
Increases Production and Quality
Quick and easy to program and operate

Eliminates manual bend angle stops

Extremely accurate and repeatable
More Uptime and Longer Bender Life
Industrial, off-the-shelf components are used

Heavy-duty push button switches (No custom made membrane pads)

The best support in the industry
Enhanced Functionality
Automatic and Manual bending modes

Unique "Bend More" feature

More programmable functions than any other control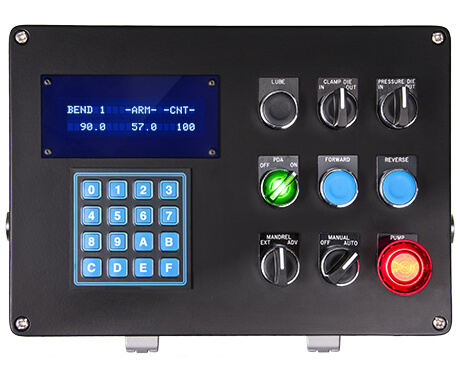 More Features Than Any Other Control
Stores 1000 part programs

Programmable bend angle resolution is .1 degree

Plain language menus for easy operation

Production counter

Real-time bend arm position display

Springback test and calculator

Automatic and Manual bending modes

Programmable bend arm deceleration

Programmable mandrel lube frequency and duration

Programmable mandrel oscillation

Programmable mandrel modes

Early mandrel extract eliminates mandrel marks

Late pressure die assist start

Early pressure die assist drop out

Programmable clamping sequences

Programmable unclamping sequences

Multi-pass bending allows use of short pressure dies

Unique "Bend More" feature

Resume from safety zone without scrapping the part

Resume from E-stop without scrapping the part

Extensive Safety support includes 2-hand operation

Interfaces to safety mats or laser scanners

Support for safety air clamps

And more...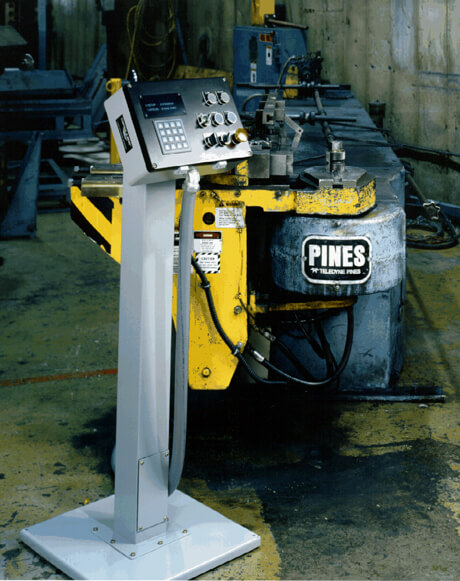 What's Included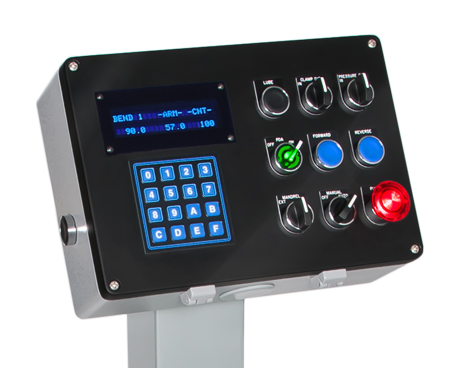 What You Get
The highest performing and most popular control on the market
Rugged and reliable hardware to add long-term life to your bender
Engineering expertise - Control-A-Bend is backed by engineers that have many years of experience with control systems, software, and tube bending.
Detailed Installation Manual
User's Manual
Electrical schematics
2-year warranty
Best tech support in the industry. With engineers in Colorado, Tennessee, and the United Kingdom, we cover the MST, EST, and GMT time zones.
Long-term support. With over 1800 tube bender controls in the field worldwide, we are here to stay.
Heavy-duty pushbutton switches are used for recurrent operations instead of membrane switches or cheap touch screens that are prone to early failure.
Optically isolated I/O modules provide high noise immunity while increasing reliability and bender up time.
Heavy-duty, industrial, oil resistant, high resolution encoder is used to provide optimum performance and repeatability.
Differential line driver interface for encoder is built into the controller to provide optimum noise isolation.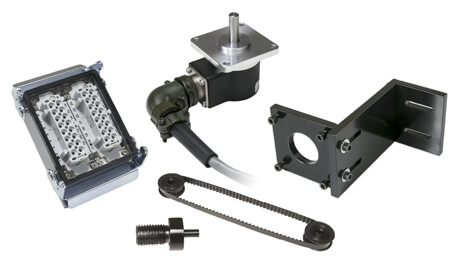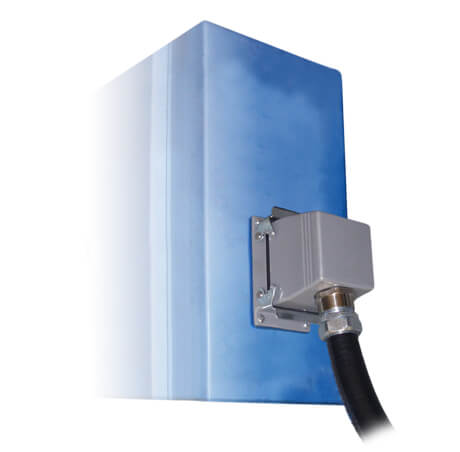 The Control-A-Bend attaches to your bender's electrical box using a heavy-duty quick disconnect. Screw terminals are used to easily wire the bender's solenoids and sensors.
Images
Control-A-Bend Images
FAQ
Frequently Asked Questions
Our Pines benders are obsolete, will Control-A-Bend be able to replace them?
Yes, it is the perfect replacement for all versions of the Pines benders  (Dial-A-Bend).
What are the main differences between Control-A-Bend and Dial-A-Bend?
Customers tell us that Control-A-Bend is easier to use, more reliable, and better supported than  Pines benders.
Will I need to ship my bender somewhere to have Control-A-Bend installed?
No, our control can be installed onsite at your location. This will save you money on trucking costs and also reduce the amount of time your bender is down.
Can we install the new control ourselves?
Yes, many of our customers install the control themselves. We have a comprehensive installation guide and we are also happy to provide remote assistance if needed.
Do you provide installation services as an option?
Yes. In some cases our customers are too busy or not comfortable installing the control themselves.
How long does it take to install the control on a typical Pines bender?
We can normally install and test it within 2 days.
Will Control-A-Bend work on any of my tube bending machines?
Control-A-Bend will work on any rotary draw, semi-automatic (NC) tube bending machine. We also make a version that works on the Pines vertical press benders.
Why should I choose Control-A-Bend?
Customers like our Control-A-Bend because it is so simple to use, reliable, and well supported. In addition, we use heavy duty push button operator switches instead of custom membrane pads that need to be replaced often.
What about support?
You will have unlimited phone and internet support from experienced engineers in our offices in Denver, Nashville, and the UK.
How long has Current Tech been in business?
Since 1988. With over 1800 tube bender controls in the field, we are here to stay.